BELOW IS HOW WE ARE RESPONDING TO COVID-19 TO KEEP OUR FAMILIES AND YOURS SAFE.
We are encouraging customers to distance themselves from our staff while at your home cleaning.
Our team will be required to wear disposable gloves, discarded after each home, and face masks while cleaning indoors.
Heavenly Sunshine will inquire of each customer about possible exposures before cleaning.
We are encouraging all employees to follow CDC guidelines of social distancing while not at work.
Heavenly Sunshine will be using a CDC approved disinfectant to sanitize all light switches, door knobs, countertops, etc. before leaving each home.
We are here to help protect you and your home.
This is a time when encouraging all of those around us is especially important. We are here to bring a bright ray of Sunshine to each of you!
With our products and extensive industry experience, we have the ability to make your house cleaner and healthier than ever before.
Searching for a cleaning service that will give your home an extraordinary clean? Are you too busy to dedicate hours dusting, scrubbing, and wiping every nook and cranny in your home? You're in luck. With Heavenly Sunshine Cleaning, you've found a professional house cleaning service that will rid your home of dust, dirt, and other contaminants for an incredible clean. Our services are unique enough that we can confidently say you'll be impressed with the results.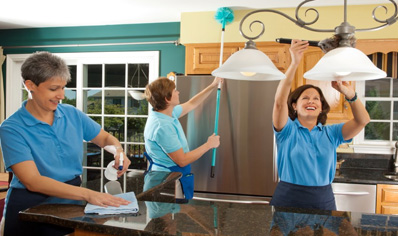 Weekly
·

Bi-Weekly

·

Special Occasions

·

Move In/Out

·

One Time
Our all-inclusive cleaning will be serviced by our trained crews who will make your kitchen look its best. These services includes, but are not limited to:
Range top and ventilation hood wiped down
Counter top and backsplashes cleaned
Microwave cleaned inside and out
​Refrigerator front and top wiped down
Sink cleaned and sanitized
Appliances wiped
Floors swept and mopped
​Trash emptied
Keep your bathroom spaces sparkling and clean with the help of Heavenly Sunshine. These services include, but are not limited to:
Clean toilets and sanitize inside and out
Clean and sanitize shower and bathtub
Sweep and hand-clean bathroom floors
Clean and polish sink and handles
Clean counter tops
Vacuum and fluff rugs
Windex mirrors
Empty trash
Our services are tailored to accommodate the unique needs of our clients' homes. These services, and more, are offered:
Clean furniture with furniture polish
Change linens and make beds
Wipe windowsills and ledges
​Vacuum and dust all floors
​Remove all cobwebs
​General dusting
​Dust baseboards
​Clean ceiling fans
We offer the highest level in clean compared to other maid services. Our cleaning services are thorough and customized. Whatever you need, let us help.
Paste waxing and buffing hardwood floors
Stripping, sealing, and waxing tile floors
Window cleaning (screens and frames)
Cleaning appliances inside and out
Washing of baseboards
Move-in / Move-out cleaning
Washing woodwork & cabinets
​Cleaning & dusting vents/returns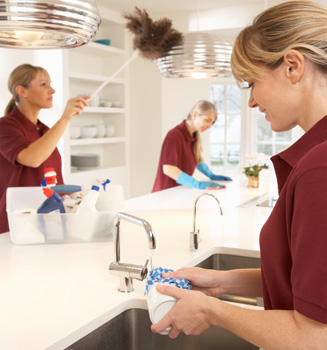 We Can Help You Get Your House Cleaner
In a team of three, bonded and insured professional cleaners will tackle every dust particle and bit of soap scum in their path until the rooms of your home are spotless. Our cooperative staff will complete each task in a timely manner.
We are a trustworthy and reliable company. With our customized cleaning "Your Way," your home is left sparkling, clean and fresh, with satisfaction guaranteed.
We offer flexible scheduling to fit your busy day-to-day life. Let us provide you more "me" time to do the things that you want to do.
We're family-owned and operated for 40 years with Christian values.
With top-notch expertise and a magic touch, we will help your home look its best every single visit.
We offer environmentally friendly cleaning products with our Green-Clean option. Your home will be seriously clean and healthy.
"No contract" allows for a more customized schedule.