Commercial Window Cleaning
If you look out your office window and see smudges, then it's probably time for a window cleaning. At Heavenly Sunshine Property Services, we've been professionally cleaning windows for 40 years, and we have thousands of happy customers to prove it. Our cleaning company works with property managers and building owners to develop a routine maintenance plan as well as a specialty cleaning schedule that suits your building and business's needs. We've got the right equipment and a professionally trained crew, so there's no job too big for our team.
Our Window Cleaning Process
Dirt and debris on windows can cause irreversible damage by etching into the glass and framing. Through Heavenly Sunshine's window cleaning service, we use professional grade tools to deep clean your windows and prevent decay and deterioration. This process extends the life of your commercial property and creates a good impression for your tenants, customers, and employees.
Businesses We Serve in the Greater Memphis Area:
Medical Facilities & Hospitals
Banks/Financial Institutions
Schools & Day Care Facilities
Churches
Office buildings and high-rise offices
Auto Dealerships
Warehouses
Retail storefronts and shopping malls
Multi-family residential buildings
Hotels
Restaurants
Warehouses
Banks
Government facilities
And more. Call us today for a free estimate!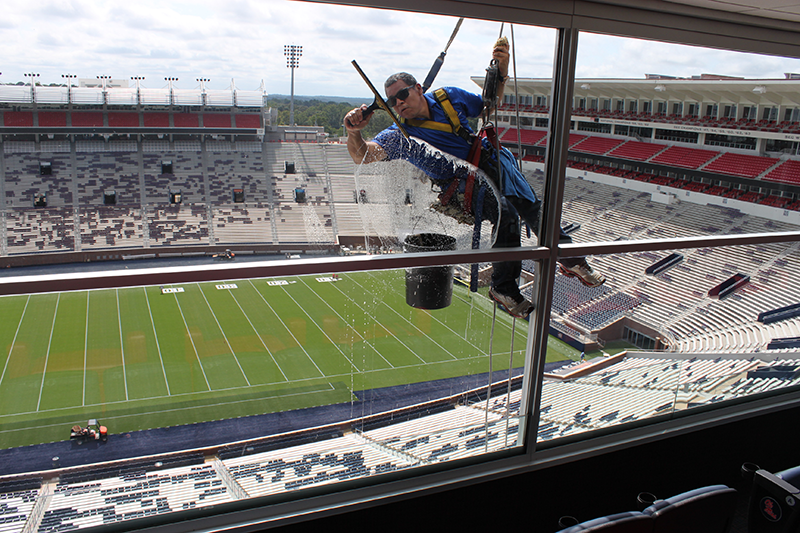 Some of Our Current Customers
Trust Heavenly Sunshine Property Services
When you need the windows cleaned at your business, Heavenly Sunshine can help! Our trained staff has provided commercial window cleaning services to hundreds of businesses in the Greater Memphis and Mississippi area. We always show up on time, get the job done right, and provide affordable pricing. Your satisfaction is guaranteed! Call us today for a free estimate.
Have you noticed that the windows at your business need a little extra attention? Heavenly Sunshine also offers window caulking and glass restoration services that can give your commercial building the facelift it needs. Check out our commercial services to learn more!