Commercial Pressure Washing in Memphis, TN
No one wants their business facade to look tired and old, nor do they want to pay for expensive outdoor maintenance. Did you know that commercial pressure washing services can improve the look of your building and extend the life of your outdoor space? Save on maintenance and replacement costs and give your office building a facelift with Heavenly Sunshine's commercial pressure washing services! Our company has been providing professional cleaning services in Memphis and the surrounding areas since 1977, and we're confident that you will be satisfied with our services.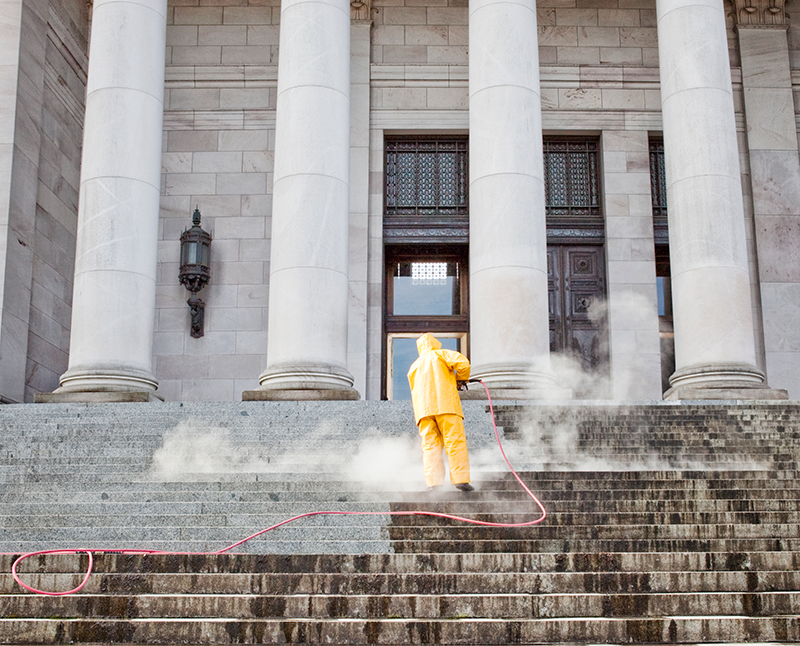 Our 3-Part Cleaning Process
Weather, pollen, and normal wear can make your building facade look tired and old. Pressure washing extends the life of your outdoor space, which saves money on more expensive maintenance or replacement costs. At Heavenly Sunshine Property Services, our commercial pressure washing services in Memphis, TN and the surrounding areas go beyond the expectations of our customers through our 3-part cleaning process:
Pressure washing the surface using commercial-grade equipment.
Preservation of the surface from future environmental decay.
Removal of all surrounding debris.
Exterior Cleaning Services For Your Business
Our pressure washing and exterior cleaning services are tailored to meet the specific needs of each and every one of our valued customers. Whether your commercial property needs one-time maintenance or a routine maintenance plan, Heavenly Sunshine Property Services is here to serve you. Need a little more than our pressure washing services? Heavenly Sunshine provides additional commercial property cleaning services for businesses, which include window cleaning, post-construction cleanup, and glass scratch restoration and repair.
Some of Our Current Customers
Contact Heavenly Sunshine Property Services Today!
At Heavenly Sunshine Property Services, our customer is our priority: we show up on time, get the job done right, and provide affordable pricing. Trust the experts who have provided cleaning services to hundreds of businesses and commercial properties in the greater Memphis area! Call 662-342-1203 or request a free quote online to get started with commercial pressure washing services.